PROFESSIONAL TIMING SERVICES

Our low pricing allows you to put more money toward your cause!

We are a full service timing company. You want results? We've got them!

Best Prices in the Industry and always delivering accurate times!

If you are looking for us to time your next event feel free to give us a call at:
610-906-4284
or if you would rather drop us an email for race timing, results questions, or to simply be added to our mailing list feel free to do so at:
AlphaAndOmegaSports@gmail.com
Timing Package

What's Included!

Help with course design
Unlimited consultation for your event via telephone, email, and if able, in-person meetings
Assist with design of Registration Flyer and Sponsorship Forms
Look over flyers and t-shirts for any confusion or oversights that may have been missed before going to print
Handle all online and mail in registrations for your event

Measure and mark your course for absolute accuracy and clarity

Assist with organizing and overseeing race day registration
Provide megaphone and starting device so that your runners can hear you and the start of the race clearly
Provide start/finish line banners, LED race clock, chutes, result boards
Time your race using our Time Machine print timers
Provide an award winner sheet immediately following the race
Assist with the awards ceremony

Post the race results in both Excel and PDF formats on our website's results page within 24 hours after your event is completed.

Added Bonus!


Offer lists of additional free resources in which to promote your race

Email thousands of runners a brief write up of your event as well as spreading the word via social media

Post finish line video footage on YouTube of the overall male and female winners of your race

But wait, there's more...


Provide bibs and pins for your event and fill out all required information for those participants that register prior to the day of race.
Connect you with Certified Traffic Control people so that you can cut costs and ensure safety for your runners when running on public streets.
T-Shirts - We can handle your t-shirt needs right up until race day which allows you to have the right sizes for your runners with fewer leftovers.
Free Professional Photography for your race $50-$300 value
Get you in touch with DJ services from a Nationally recognized leaders in the industry

Connect you with outstanding award resources

Or call now to lock in your date 610-906-4996
---
Track Meets: High School, Junior High, Youth Programs, etc.

Fully Automated Timing (FAT) for Track Meets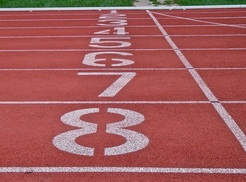 We offer the best in FAT using Eagle Eye technology to ensure you the greatest quality and results for your meet. We are fully self-sufficient in that we do not require anything from you. We have all our required tables, printers, extension cords, etc. We even have our own power if their are no outlets near your start/finishing line. We know that getting started on time is a must so we make it a point to arrive to your location one hour before your meet is scheduled to begin. Since, many times we are hired to provide multiple meets to the same school over the course of the season we offer discount rates in those situations so please remember to mention all your upcoming dates that you would like to hire us for when calling or emailing us.
Fully Automatic Timing

Yes, we have a power (if needed)


---